The Worshipful Company of Woolmen and the Company of the Merchants of the Staple have awarded two signficant prizes for Innovation this year.
Worth up to £10,000, the Prize is an annual award available to individuals who show the most innovative use of wool in any commercially viable application. This year both Liveries are delighted to announce that they have been able to award two significant prizes for Innovation in 2020 to Romney Marsh Sheep Farming and NexGen Tree Shelters.
The first goes to sheep farmers and partners Robert Hodgkins and Joanna Franklin, following their work on focusing on improving the quality of Romney Marsh sheep wool using genomic markers. Rob and Jo have been using genomic markers, through DNA testing, to identify which sheep have the best weight of fleece and those with the best quality wool. This process was set up with the intention of improving the whole Romney flock and ultimately give other sheep farmers the opportunity to incorporate these genetics in order to sell better quality and quantity of wool.
Genomic marking is readily available in in New Zealand, where comprehensive testing facilities are in place, but not available in the UK. Increased genomic testing in the UK might make it possible to have the marking process as a standard function nationwide.
Robert Hall, Chairman of the of the Staple's charitable trust commented: "We are delighted to award Robert and Jo our 2020 Wool Innovation Award, which we hope can help improve the quality of UK wool. They have exciting plans in the pipeline, and we are immensely proud to support them both."
Accepting the award Robert Hodgkins said, "Our business is at the start of an exciting journey. This prestigious prize will allow us to develop the work we have begun with Romney Marsh sheep and to help improve the quality of the flock nationwide."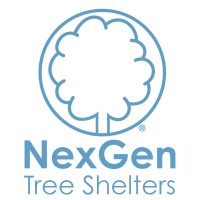 The second prize is awarded to Gary Hurlstone, Founder and Managing Director at NexGen Tree Shelters, a company manufacturing totallybiodegradable Tree Shelters made from wool. There is a growing realisation that globally we need to plant more trees to combat climate change and to satisfy increasing timber demands. However, this should not be at the cost of damaging the countryside, waterways or wildlife through the use of plastic. NexGen Tree Shelters will replace plastics which are currently used in millions of tree shelters annually.
Gary Hurlstone commented, "We are thrilled to accept this award and we are confident that we will be able to meet the huge demand for wool biodegradable tree shelters. Our aspiration is to be market leaders producing 20 million tree shelters for the UK in the next five years, all made from wool."